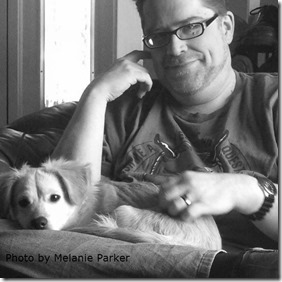 Tell us a little bit about yourself, Bryan.
Well, I'm a writer from the Chicago area. I have been writing in one form or another since I was in the third grade and sat down at my mom's electric typewriter. I write horror, mysteries, thrillers and suspense in my fiction. For non-fiction I write historical and true crime books.
What are you currently reading?
Well, I am reading Robert R. McCammon's 2015 release: The Border. I am a big fan of his work and he's been gone for a while.
Who is your favorite fictional villain and why?
Gosh – that's hard. As a comic book fan, my list of fictional villains is huge. I love Randall Flagg from Stephen King's The Stand and Dark Tower series. I am a huge fan of the Joker in the Batman comics – because he is just so incredibly evil. When I was a kid I loved Darth Vader more than I did the heroes. There are just so many. I love a good villain because a really good villain makes things more interesting for the hero.
What's your favorite pop culture moment/object of the 80s?
I think the one object that I still must have tucked away somewhere that best represents the 80s is the Rubik's Cube. Man, we had several in our house and never could figure it out.
Do you collect stuff? Obsessions? Hobbies? Skeletons in the closet?
I am not much of a collector anymore, although I have collected comic books, books in general, bobble-heads. Mostly my obsession is with TV and movies. I watch way too much TV when I should be writing, particularly on weekends and love, love, love going to the movies. As for skeletons – there are many, but they are mine.
What scares you?
I think death scares me, as it does all people. I'm not sure what happens after we die, but I know being nothing before I was born didn't seem to upset me much. I am also terrified beyond description about thunderstorms. I suffer from astraphobia, which makes the warmer months quite a chore for me.
Do you have a specific place where you write?
We have a spare bedroom that also serves as my wife's walk-in closet where I have a little corner desk. That is where I write, although I sometimes write on the sofa in the loft or even in bed.
What's your novel about ?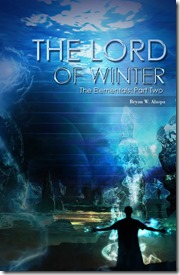 The Lord of Winter is the second novel in my young adult series The Elementals. The series is about an offshoot of humanity that are long-lived and stronger than humans, but can also manipulate one of the four main elements in a variety of ways. In the second novel, the characters we met in the first novel, The Lightning Weaver, head down to Miami to help a young Elemental who has lost control of his powers. He can manipulate air and water to create ice, snow and blizzards. At the same time, the evil villains in the series are after him, too.
Is there one character from the series that you really enjoyed writing? If so, who and why?
I enjoy writing all of them, I have to say. They all have different personalities that I find intriguing. Being a fan of villains, though, I would have to admit to a fondness for the main villain Johann Apasilic, AKA Mr. Apples. His disregard for anyone and anything, particularly anything human, makes him truly despicable.
Without giving away too much, how does The Lord of Winter connect to the first book in the series The Lightning Weaver?
It is a direct sequel. It essentially picks up right where The Lightning Weaver left off and moves the story forward. It will be continued in The Water Witch and finished in The Firedrake.
Where can folks buy The Lord of Winter (The Elementals Part Two)?
Where can readers find you?
I can be found at my website www.bryanwalaspa.com
Facebook: https://www.facebook.com/bryanalaspa/
Twitter: www.twitter.com/bryanalaspa
Pinterest: https://www.pinterest.com/bryanalaspa/
Anything you'd like to add?
Although the Elementals series is geared towards the younger crowd, I have made it so that adults can also read it and enjoy it, too. It's quite an adventure series that I think is great for all ages.